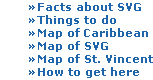 The Grenadines:


Stretching away to the south are the Grenadines, three dozen tiny islands where the same seclusion often mingles with understated yet meticulous luxury. Several are privately owned or leased and have been transformed into mini-resorts, each with its own personality. Mustique, formerly the elite kingdom of socialite Colin Tennant, now welcomes all comers to elegant lodgings. Bequia (BEK-way) is a pretty patchwork of batik boutiques and colorful fishing hamlets, its Admiralty Bay a gathering spot of an international clientele. Union Island, also a nautical hangout, is a hub for sailing charters and scuba excursions. Palm Island and Petit Byahaut are both upscale camplike retreats, and Petit St. Vincent - PSV - is an island resort that Garbo might have loved, proffering privacy and first rate service. Mayreau and Canouan also take guests, but many of the other Grenadines, like Tobago Cays, are uninhabited jewels, perfect for staging that Crusoesque castaway fantasy. On all these isles, the beaches are a picturesque dream white and blue; nonaquatic sports are scarce, and the rowdiest nightlife is dinner by starlight.

The remote feeling that makes these islands so special, however, is in part the result of their relative inaccessibility: travelers to St. Vincent must connect via Barbados or another island; journeying on to the Grenadines is usually by boat. If your clients are in the mood (and the money) to rent a small yacht, island-hopping here could be the escape of a lifetime, since just about every hotel caters to sailfolk. Others, of course, may be equally content to wash up on one tiny forgotten island and watch time come to a blissful halt.


Things To Do Navigation:

» Facts About SVG



» Places of Interest



» Kingstown



» "The Strip"



» The Grenadines