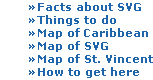 Kingstown:


Kingstown is the capital of St. Vincent. Kingstown is best appreciated for its West Indian feel rather than for any grand attractions. It's a good place to relax and stroll the cobblestone streets. The town gets its unique atmosphere from the produce vendors along Bay and Bedford streets, the crowds at the fish market and rum shops, and it stone-block colonial buildings.

Kingstown is known for its churches. The 1820s St Mary's Cathedral of the Assumption (Catholic) has an eclectic mix of Romanesque arches and columns, Gothic spires and Moorish ornamentation. Other notable churches include the Georgian-style St George's Cathedral and the Kingstown Methodist Church.

St. George's Cathedral has very colorful stained-glass windows and an attractive churchyard. The Cathedral of St. Mary's is a blend of Gothic, Boroque and Romanesque styles of architecture. Overlooking the capital is the 18th century Fort Charlotte which has many of its cannons still in place. In 1765 the Botanic Gardens were established here which means that they are the oldest in the Americas. On the grounds of the gardens is a museum about the Caribbean's with a special section on the Arawaks.


Things To Do Navigation:

» Facts About SVG



» Places of Interest



» Kingstown



» "The Strip"



» The Grenadines