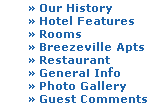 About The Breezeville Apartments:


The adjacent Breezeville Apartments is operated by the management of Villa Lodge Hotel. In addition to all of the amenities you would expect from our hotel rooms, the apartments offer significantly more space plus the opportunity to do your own cooking. The open-plan kitchen area features a four-burner stove with oven, a full-size fridge and all the utensils and crockery you need to prepare your gourmet dishes. Also, an iron and ironing board come standard in the apartments. For a closer look at the Breezeville Apartments please follow these links:



Bedroom 360 Panorama (Quicktime Plugin Required)
Living Room 360 Panorama (Quicktime Plugin Required)

Of course, the hotel's housekeeping staff will take care of your daily chores, and the hotel's laundry service, restaurant and reception can take care of everything else if you so choose.

Click on any of the thumbnailed pictures below to see larger pictures of our beautiful rooms.





Special Packages:



I'm sorry, but there are no specials listed at this time. Please feel free to phone us to find out if there are any specials being offered currently.

Villa Lodge Hotel Rooms:


For more information on the rooms at Villa Lodge Hotel click here